Sunnybank U15/16 boys progress to the Preliminary Final
We played the minor semi in Division 2 of this age group on Saturday 27 August 2016 at Calvary College.
Our opponents were St Pauls.
It was a very closely contested game played in ideal conditions. Sunnybank won 4/1 on the day.
We will now contest the Preliminary Final against North Lakes at the Darien St, Bridgeman Downs ground at 11.20 am on Saturday 3 September.
Coach Andrew Godbold said that he was very pleased with the intensity shown by his players. He is confident they will carry that intensity into the prelim final.
It would be nice if as many club members as possible could show our club spirit by attending Saturday's game to cheer them on.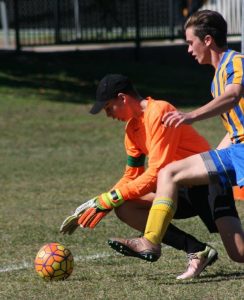 (Thanks to Mike Sullivan for his excellent action photography)